Dec 23 2008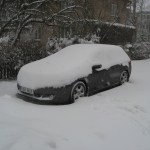 Jätkasin Eesti elu omapärade väljatoomist mujale maailma mahajäänutele. Aga häid pühi ja aastalõppu ka kõigile teistele, kus te parajasti ka ei viibiks

Hi Everyone,
Hope you're doing fine wherever you are. The weather in Estonia has been snowy for the last month or so, at least in the place where I live. Since the sun sets at 3:23pm today, the snow actually helps a lot in terms of visibility, as it amplifies any light sources in the night. It's not too cold (hovering around freezing), but every now and then I have to dig out my car (pic attached).
I bought a condo in the middle of Tartu. The building was originally constructed in 1836, and features 3 feet thick stone walls, so I should be able to survive any sort of climate. As a matter of fact, it doesn't currently have anything besides walls, so it will take me a while to get all the interior work done and actually move in. But you're all invited to a party once it's done.
As you might remember, I'm doing most of my daily work in a software company called Webmedia. Starting next year, I will have my own P&L in Webmedia, and in preparation for that, we threw a big party. I have lost count of work-related parties I've attended by now, and may need to get some kind of letter from the company to explain my absences to my wife. One sign of the times is that most of my physical activity tends to come from dancing at parties, as I'm spending way too much time sitting at my desk or in my car L But at least we have free onsite massages J
Anyway, Adam might be able to relate better how the last party went, as he was subjected to a few new experiences, like various kinds of Estonian water torture (from scalding hot steam to jumping into holes drilled into lake ice), and naked girls beating him with tree branches.
To the uninitiated, the above-described procedure is called sauna, and it's only done properly in this region of the world. Almost every Estonian has a sauna, even if he has to build it into a highrise apartment building.
Some of you may remember the party bus in Redmond, in Estonia you can also rent a sauna bus (http://www.saunabuss.ee/index.php?id=10), and cruise the city in the comfort of 85 degrees Celsius (185 F).
It's also Christmas time. The USA is the most religious industrialized country, but there's lots of fuss about public displays of Christmas paraphernalia. Estonia is one of the least religious countries in the world, but there's a big Christmas tree in the town hall square and radio plays non-stop Christmas carols all day long. Still, I guess it has somehow morphed from its original ideas, as the Webmedia holiday party featured bikini babes performing acrobatics (pics on request), and other not so solemn activities.
But I hope you all have a good holiday suitable to your taste.
All the best for the new year,
Targo